2nd Annual Go Blue or Go Home Post-Picnic Review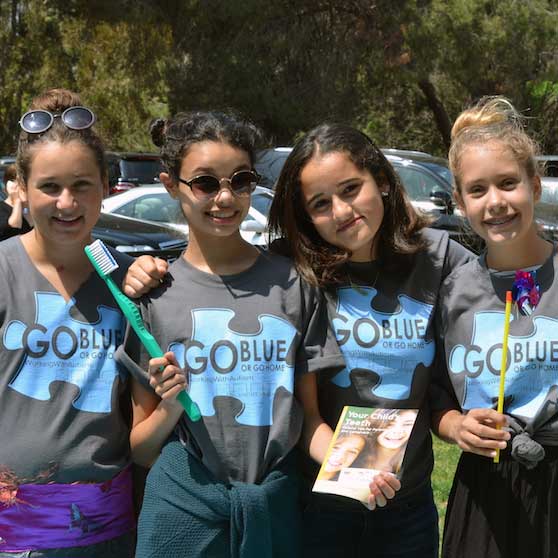 On April 12, 2014, the local community came together for Working With Autism and the Yogurt Shoppe's 2nd annual "Go Blue or Go Home" picnic fundraiser to honor autism awareness month. Kevin and Jennifer Sabin, local residents of Pacific Palisades created this event to bring awareness to the community and to offer a fun filled venue for all to share. The day was complete with amazing activities and delicious food, in addition to music provided by DJ Spase and the band "Sweet Talk Radio".
Our heartfelt thanks go out the many local sponsors including Mayberry, MeCHE, Juice Crafters, Jaimie Geller, Matthew's Garden Café, Marc Michel Eyewear Studio, iRyze, Sandy Days Kids Camp, apartmentmarket.com, Maison Giraud, Lavender Blue, Helen's Cycles, Carly L, Jonathan & George Salon, Kier Design, Fanbank, and Gerry Blanck.
The variety of activities and the enthusiasm of all who attended made the day a great success! There were bounce houses of different sizes, toddler games for the little ones, and human hamster balls. Other entertainment included a juggler and stilt walker, balloon artist, face painting, henna tattoos, and a visit from a Disney princess. There was a great deal of interest for the various raffles and many individuals were able to walk away with a great prize as a result of also having made a contribution that they could feel good about.
In addition to being a memorable event for all the families in attendance, the picnic was a great opportunity to celebrate the strength, perseverance, and dedication of all families affected by Autism. WWA and the Yogurt Shoppe look forward to continuing this tradition for many years to come! Sponsors and volunteers who would like to participate in this activity next year are encouraged to contact either of these organizations to find out about how to become involved.